Performance hybrid bikes are bicycles designed to be ridden on paved roads which means these are ultimate roadsters. However, unlike road bikes, they come with wider tires which means they can be ridden on trails and occasionally on grass. In this article, we will be focusing on the best-performance hybrid bikes under 500.
Most of the time these bikes will come with a hybrid bike frame which means they are robust and durable enough that they can withstand the tear and wear expected of a performance bike.
However, unlike your street bike, the performance road bike is typically more comfortable. It is also designed to be fast and lightweight and hence it lacks some of the features such as suspension typically found on a pure hybrid bike.
Specifications
Performance hybrid fork and frame
Comfortable upright handlebars
Disc brakes for easy stopping
700c rims and tires
24 speeds for enhanced performance
The Vilano Diverse 3.0 hybrid road bike is the best performance bike you can buy. The Vilano is a great bike for commuting as it can go over a range of terrain from the pavement, to grass, to trails with ease given its great handling. This makes it a perfect bike for going to work, an afternoon on the rail trail, or a weekend group ride.
One of the most irritating things about a pure hybrid bike is that it can be quite heavy and this is where a performance hybrid shines. The Vilano is particularly lightweight though it is not a competition bicycle. Nonetheless, while it lacks some of the components in a hybrid it comes with excellent disc brakes and trigger shifters.
With trigger shifters, you can easily position your derailleurs even when you are doing the hard shifts. Compared to drum brakes the disc brakes give you more control on rugged terrain or when going down hills.
With an eight-gear cassette, you have a lot of flexibility when going uphill so that you will not get too exhausted on that morning commute. While it may not have all the features you would find in a Trek, for the cheaper price you pay, it is a great bike.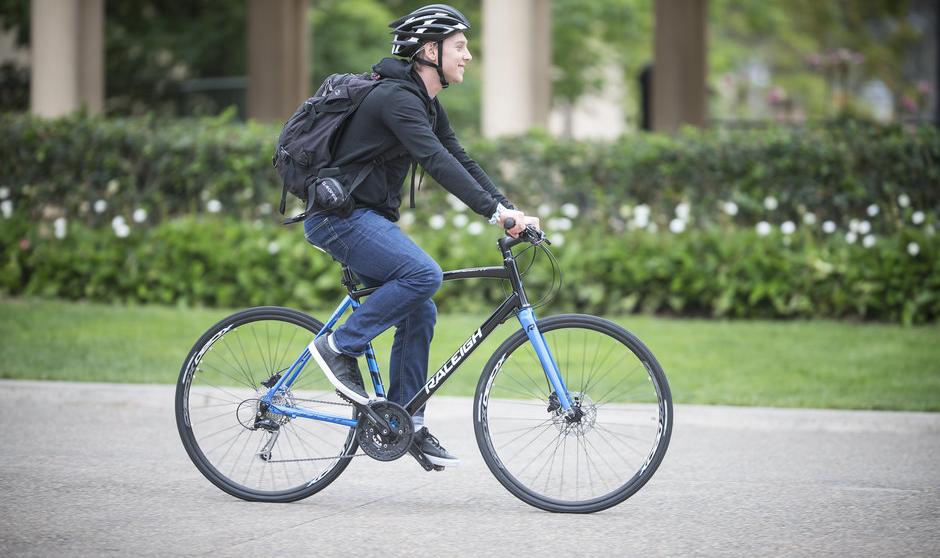 Specifications
Durable lightweight aluminum frame
Mechanical disc brakes for stopping power
24 gears for ease of shifting
Wide and large 700 c and 35c tires for traction
Similar to Schwinn bikes the Raleigh company has been around for more than 100 years and is a company that is known for great-looking high-performance bikes.
The Cadent 2 is a mid-level bike made for fitness and as such is great if you are looking for something to cruise through the city on a commute or just a fun ride at the local park. Nonetheless, while it is a performance bike, it is lightweight and fast given its aluminum frame and fewer components.
It comes with double-walled full alloy Weinmann rims that are married to 35C size tires and given how large and wide they are, they are great for gravel paths, pavements, and even rainy conditions.
Combined with mechanical disc brakes, the bike offers great maneuverability which you will need in city riding. With such brakes, you can easily avoid or get out of sticky situations when you need hard braking.
Made for performance the bike comes with 24 speeds and easy shifters so that you can tackle hilly terrain with ease. This, coupled with its lightweight and nimble, makes for a sturdy bike that handles like a mountain bike but comes at a much cheaper price.
Specifications
Fenders to keep you clean on the commute
Comfortable upright handlebars
21 Speed shifter for ease of pedaling up hills
Durable and light aluminum frame
Padded seat for added comfort
The Schwinn Discover is a great performance bike for women having been made by one of the best brands known for quality. The bike is specifically made for women given the low frame and the relatively fewer spokes since women are relatively lighter and do not push a bike the same way as men.
With the bike, it is easy to go almost anywhere you want with the Schwinn Discover Hybrid bike. It is a very comfortable bike and with its comfortable seat, built-in rack, dual-density rack, and aluminum frame, it is a great bike for the commute. You also get comfort from the adjustable sweepback handlebars and stems make it easier to adjust the bike for better performance.
Maneuvering the bike whether through the trails or on pavements is easier as it comes with four-finger brake levers, alloy twist shifters, rear derailleur, and 21-speed shifters. Given that we women love to carry a lot of gear with us this bike comes with added amenities such as gear carriers that make toting our stuff more convenient.
Check out best hybrid bikes under 200 on our post here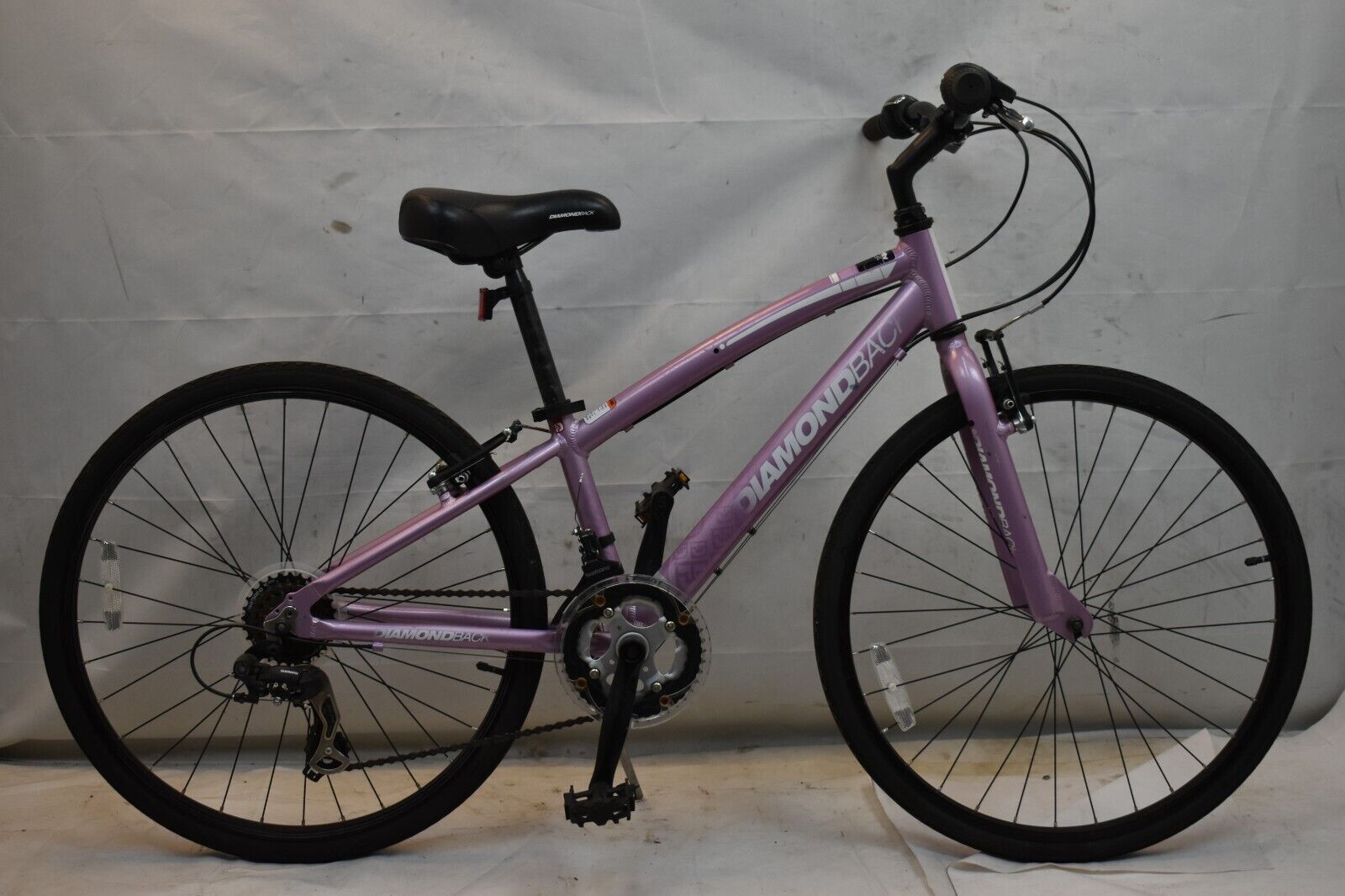 Specifications
Comfortable and durable alloy frame
Great handling from the straight fork
Great stopping power from disc brakes
Easy shifting with 24-speed drive-train
700c Performance wheels
The Diamondback bicycle is a great performance bike under 500 dollars that is among the most well-rounded. Made for women, it can also be adjusted for men given that it is one of the most complete bikes out there
It is a beautiful bike made with aluminum alloy frames with oversized tubing and a slightly curved tube top. The front fork has been designed to be straight in dual sport mode to make better handling and to make the ride precise and smooth as it reduces vibrations.
As for the performance, it has a 24-speed drive train with a rear derailleur and shifters which make riding up hills a breeze and braking when you need to also very easy. The large 700 c wheel with alloy rims makes for wide wheels that provide excellent grip on any surface so that you can use the bike on different terrain.
For $500 it is a great women's bike on the commute.
What to Look for When Buying Performance Hybrid Bikes Under 500
Wheel Size
Person preference is what typically determines the wheel size. However, for a performance bike, you should be going for a 700c wheel if you will be riding on rough terrain as these will be efficient and quick and will roll over obstacles with ease. You should also go for wider tires which provide more stability and traction as compared to the smaller 26-inch varieties.
Gears
If you want better control of your bike then go for more gears though most bikes on this list have at least 21 shifter speeds. If you need more performance, you may have to pay more though the number of gears needed will depend on the nature of the terrain you will be riding on, fitness level, riding style, and strength and experience of the rider.
Suspension
Most performance bikes do not come with suspensions since they have to be lightweight. However, if you need more comfort you can get one that comes with suspension, especially if you will be riding on rough terrain since the added weight is almost unnoticeable.
Brakes
Your hybrid bike will typically come with either disc or rim brakes. For the performance bike, the mechanical or hydraulic disc brake is more effective as they provide consistent and superior stopping power in all manner of conditions and terrain. Disc brakes tend to be more expensive as compared to rim brakes.
Frame Materials
For speed, it is better to go with lightweight materials such as alloys and aluminum. However, if you want something that handles well in rough terrain, then a bike frame made of something heavier such as steel would be better. However, you can also get a carbon fiber frame which is light and strong too but is usually more expensive.
Handlebar Shape
Hybrid handlebars fall under three major categories. First is the flat bar that offers a more relaxed position to save you from body pains. Second, is the riser bar that allows the rider to sit straight. Last but not least are the drop bars that let the rider bend over slightly to achieve an aerodynamic posture. Regardless of the type you choose, make sure it's adjustable.
How Much Should You Spend on a Performance Hybrid Bike
If you do not have a lot of money to spend on a new hybrid bike, then 500 should be enough depending on your needs. However, how much you spend will depend on the features you want for your bike as some hybrid bikes can cost as much as $1000
Final Word
If you do not want a specific road bike whether it be a road racing or mountain bike then a performance hybrid would make a great choice. It takes the best characteristics of the hybrid and mountain bike to make for a study bike that will provide great variety for your riding needs.
You can use your bike for adventurous trail riding and the next take a leisurely cruise through the park and then take it for your daily commute. This list of the best-performing hybrid bikes under 500 provides several options so that you can get whatever you need from your bike.